Congratulations to AbsoluteWrite members Stacia Kane and K.A. Stewart on today's release of their respective books! I've been waiting for the release of both of these books with great anticipation, for what seems like months.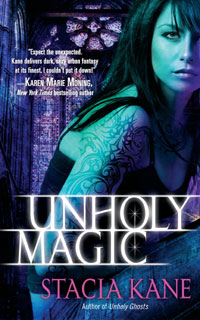 Stacia Kane's new book Unholy Magic is book 2 of the Downside Ghosts series. You can read an excerpt on StaciaKane.com. The enthusiastic All Things Urban Fantasy review says:
Like any drug, the first taste gets your attention but its the second taste that gets you hooked. I thought the first Downside Ghosts book, Unholy Ghosts, was an impressive debut, but UNHOLY MAGIC is even better. I am well and truly addicted to this dark, seductive urban fantasy series.
Stacia Kane is singlehandedly writing her very own hot new take on Urban Fantasy, so I'm excited for this next installment in the Downside Ghosts tales.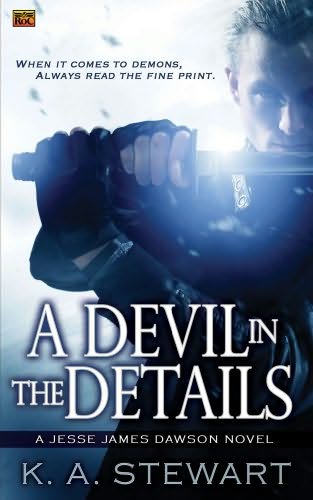 If you favor an Everyman hero, Fantasy Literature describes K.A. Stewart's new book, A Devil in the Details (Jesse Dawson book #1):
Every lost soul needs a champion. Jesse James Dawson was an ordinary guy (well, an ordinary guy with a black belt in karate), until the day he learned his brother had made a bargain with a demon. Jesse discovered there was only one way to save his brother: put up his own soul as collateral, and fight the demon to the death.
There's a review of A Devil In the Details up at The Best Reviews that tells us:
K.A. Stewart is a welcome addition to the urban fantasy writers with a strong opening entry. Told in the first person by the laconic hero in a sardonic witty voice, readers get to know Jesse up front and in person. Flawed and courageous, Jesse risks eternity to help those who cut demonic deals although by doing so he shortens his lifespan because one day he will lose a fight. A Devil in the Details is a dynamic debut.
You can find an essay from K.A. Stewart about writing Jesse James Dawson on the Penguin Books Website. She writes:
The character of Jesse Dawson sprang to life out of my desire to see an "everyman" in extraordinary situations. He's your average Joe. He has a house payment, a wife, a beautiful daughter that he spoils. His job is menial at best, and he'll never be what anyone calls wealthy. Ultimately, his life probably isn't a lot different than yours.

Until, of course, you throw in the demons. Oh, did I forget to mention those?
If you'd like to know more about how other writers are making their books work—and sell—K.A. Stewart has a recent guest post about building characters on The Other Side of the Story.
So these books are some of what I'll be reading this month. How about all of you? And if you're an AWer with a book coming out, drop me a note!