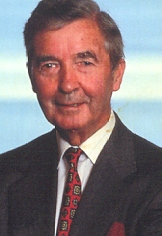 I'm very sad to announce that British mystery writer Dick Francis, 89, has died.
Mr. Francis wrote the first mystery novel for adults I ever read. I was a child who was too grown-up for my chronological age, but I loved horses passionately. I'd read all the Walter Farley books, Black Beauty, and pretty much any other book about horses you can think of. If a book even hinted that it might mention horses, I'd read it. I was also at that in-between age; I was reading widely, but had only just recently made the jump to reading both fiction and nonfiction written for an adult audience.

So when a book-loving neighbor gave me a copy of Whip Hand, it was like discovering a kindred soul. People wrote books for horse-crazy grown-ups, too! I've happily read my way through an awful lot of Dick Francis horse mysteries, in the years since.
Mr. Francis was a renowned jockey, before he became a best-selling mystery novelist.
He'll be missed.