Hello, AWers! Sorry about the long silence. I've been a bit buried, and didn't even realize it had been so very long since the last post. Here are some of this week's stories, interviews, and trends in the writing and publishing world that I think might interest you. I'd initially thought to do a generic links round-up, but then belatedly realized that all the links I wanted to share have to do with getting an agent, and ultimately selling that first novel to a commercial publisher.
One of my favorite new blogs to follow is OPWFT, a group blog run by denizens of the Old People Writing For Teens thread on the AW Forums. Here's a terrific round-up of what NOT to do in your query, collected peeves from lots of different literary agents.
Speaking of blogs for writers of Young Adult fiction, YA Highway just posted Kody Keplinger's interview with  agent Kathleen Ortiz (@KOrtizzle on Twitter.) Kody chats with Kathleen all about the road to becoming an agent, hot trends, how much they both love slush, and what Kathleen would most love to see in her submissions pile:
KATHLEEN: I'm open to all types, from dark and 'edgy' (sorry Kirsten) to light and funny. What would I love to find? If a well-written romance with the male point of view and a great voice fell into my lap, I think I'd record a YouTube video of my very embarrassing happy dance. I'd also love to find both a creepy YA thriller that makes me not want to sleep when I'm done (then I know you've done your job as a writer) and a steampunk with fantastic world building. As far as chapter books/middle grade goes, I'm all about finding the next RAMONA or MANIAC MAGEE.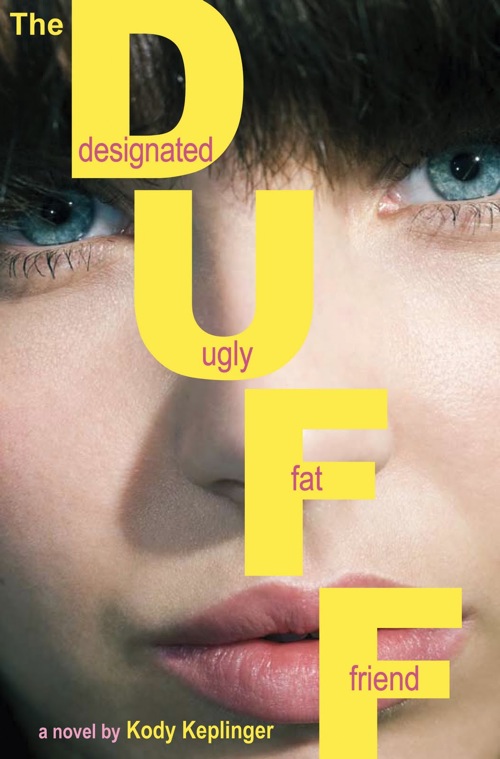 And I don't know how on earth I missed this interview back in October, but Realm Lovejoy's interview with Kody Keplinger at The Blog Realm is another one of the best writing-related interviews I've read in a long time.
I have a huge soft spot for excellent YA novels, anyway, ever since devouring all the S.E. Hinton novels I could find, as a tween. So I've been watching with mingled delight and admiration as the current YA Renaissance builds steam. There's an exciting smorgasbord of books for young readers, written by people who've managed to capture that lighting-on-a-keychain feeling so unique to young adults.
I'm very much looking forward to reading Kody's first novel, The Duff, when it's released, in September. Kody blogs, too—just be warned there's embedded music on her blog, if you're browsing from the office or have your sound turned way up. You can find her on Twitter, @kody_keplinger. She's asked for reader input about the ARC cover (posted above) to help her publisher, Little, Brown/Poppy, evaluate the design for the final HC version. Comment there, not here, about the cover, though!
Congratulations to AW's own Houndrat (Debra) who just landed an agent! You can read what it's like to get that phone call, and a bit about her journey as a writer to reach this point, all on her blog at houndrat.com.
Me: *ponders, tells herself not to say something stupid. Says something stupid anyway* But, are you sure?
So the next time someone tells you that first-time novelists don't get agents unless they've already got an offer? You know where to send 'em. Debra is writing about characterization, this week, by the way:
Characters need to have layers, and almost more importantly for me—they need to have flaws. I'm sorry, but being that I'm about a bazillion degrees away from perfect myself (shocking, I know), it's really hard for me to relate to flawless characters. You know, the ones that are beautiful, rich, have superpowers, get the guy, and gosh darn it, are just flat-out nice. All. The. Time.
And finally, Jim Hines has collected a lot of deeply interesting information from over 200 writers about first novel sales, and he's posted part one of the survey results.
For this study, I was looking for authors who had published at least one professional novel, where "professional" was defined as earning an advance of $2000 or more. This is an arbitrary amount based on SFWA's criteria for professional publishers. No judgment is implied toward authors who self-publish or work with smaller presses, but for this study, I wanted data on breaking in with the larger publishers.
You should definitely go take a look at the results he's posted.
Until next time, AWers, write like your life depends on it; and live like the writing depends on it.