Have we talked about backing up your work?
Let's do. For less than you'd spend on dinner at Applebee's with your honey, you can install peace of mind on your Windows computer.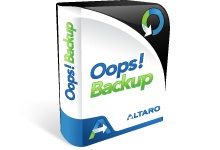 If you're not backing up your writing, every time you have new words? You're taking a mighty gamble.
If you're one of those guys with the thumbdrive on your keychain, the dropbox account, and multiple Gmail addresses, I bet you think you're already doing plenty to save back-ups. But you're also working harder at it than you have to.
To that end, I want to direct your attention to one of AW's advertisers: Oops!Backup for PCs.
These guys are good.
Don't  just take my word for it, though; read what other people have to say about the software.
They're offering a 30% discount for AW members, through the month of November—that's just in time to buy yourself or the writer in your life a terrific Christmas present, and make sure your NaNo novel is safely stored when you catch that nasty virus from your favorite online game site.