How 'bout some ether?
Super Member
Registered
Joined

Jul 14, 2005
Messages

6,505
Reaction score

1,576
Location
Run awayyyyyyy!!! knitting is highly addictive and pretty soon that Red Heart worsted weight you got at walmart for a buck a ball isn't going to cut it and you're at specialty knitting stores buying $10 a ball(very small ball) hand-wash only cashmere for baby clothes. yes, i am a victim of the knitting addiction. fortunately it goes in waves and right now i'm safe but i watched the videos on the knitting website and i though, hmmm i still have that beautiful lavender cashmere. i should go get it from storage and knit something.

Whatever you do, do not flip through the Debbie Bliss baby pattern books at teh bookstore because you'll be knitting for imaginary babies, hinting to all your friends that they need to get preggers so you'll have someone to give those adorable baby lamb booties too. oh and you just have to knit that precious baby bear onesie. oh yes, my friend, knitting is a dangerous thing to get into.
All this is true.
I am a knitting addict! When my brother's daughter was born, I already had something like twenty pairs of booties for her, a sweater, bottle cozies, No idea how many bonnets and caps and a beautiful afghan in "her colors" of chocolate, strawberry and cream. I have more yarn than I will probably ever use, and I still buy more! I have needles in every size, circular needles and all the accouterments like gauges, marker rings, darning needles and I even have a nice collection of crochet needles, too. Once you start buying the super-soft (expensive!) stuff, that Red Heart yarn will seem like barbed wire. Somehow, you will always be able to rationalize spending a ridiculous amount of money on a ball of yarn!
Then again, with a model like this, who could stop knitting?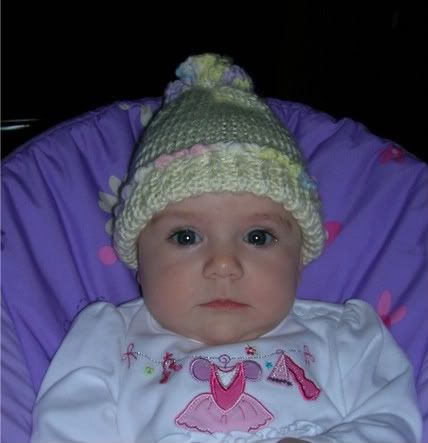 Last edited: