Welcome to the July Flash Fortnight!
​
The July
Flash Fortnight
will run from Friday 15th July (Day 1) to Thursday July 28th (Day 14). Each morning during the challenge, I'll update this post with a new prompt for the day, so please check back if you find them useful! All of the challenge prompts will remain permanently available to you, so if you'd like to use any of them outside of the Fortnight, please feel free to do so.
*
Prompts
Day 14 : A great compliment from an unexpected source.
Day 13 : Something strange in the world inside the mirror.
Day 12 : "Three's a crowd" on a diving holiday.
Day 11 : Alone in a rural setting, with fields around you for as far as you can see.
Day 10 : Being asked by a fugitive for sanctuary.
Day 9 : Hearing a voice from your distant past, nearby in a crowd.
Day 8 : In the waiting room before a job interview.
Day 7 : One of these things is different from the others.
Day 6 : A fellow passenger on a subway/underground train in the middle of the night.
Day 5 : Communicating with an insect.
Day 4 : Rediscovering an eerie road on Halloween. (This is
the specified theme for the ReadingWriters contest - prize $100
.)
Day 3 : Standing up for a controversial work of art.
Day 2 : Discovering an old photograph.
Day 1 : Down a shaded lane on a summer evening.
​

​
*
​
Tips on using the prompts
​
Think of the prompt as a starting point. When you look at it, certain words, phrases or ideas might immediately come to your mind. Try writing these down. For each of these things, consider what words, phrases or ideas that they, in turn, inspire.
Keep going in this way. You could free associate on the thoughts you're getting, or ask yourself questions on each thing: What is it about this that I'm drawn to? What would happen if I followed this train of thought to its logical conclusion?
Try not to censor yourself or second-guess your imagination. In the end, the idea you end up with might be completely unrelated to the prompt - and that's completely fine!
Good luck!
*

​
Optional: Signature art!
​

Here are some images that you are welcome to use in your post signatures, if you wish, to mark your achievements in each challenge. They indicate the total number of days during the Flash Fortnight on which you've completed a story draft. There are 14 images available, one for each day.
You can update your signature with a single new image each day, or put one image up at the end of the challenge; however you prefer.
The images are currently hosted on Photobucket. To add them to your signature:
Go to your
User CP
(the left-most link in the blue menu bar that is near the top of every page);
Click on the
Edit Signature
link from the list on the left of the page;
Paste the URL into the signature box, preceded by
;
Click on
Save Signature
.
The URLs of the images are all in this form:
http://i922.photobucket.com/albums/ad65/elarasophia/AW Flash Fiction Forum/1.jpg
Right-click on the link and copy it, and then edit the
1.jpg
at the end to the number you would like (e.g.
10.jpg
) after you paste the URL into your signature box.


But there's more!
You can also choose a signature picture from this second set of images, which was very kindly created by
Williebee
: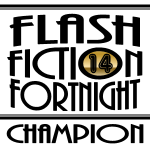 Again, there are images available for each day of the challenge. The URLs for these are all in this form:
http://i922.photobucket.com/albums/ad65/elarasophia/AW Flash Fiction Forum/W1.png
Right-click on the link and copy it, and then edit the W
1.png
at the end to the number you would like (e.g. W
14.png
) after you paste the URL into your signature bo
Last edited: