Herder of Hamsters
Staff member
Administrator
Super Moderator
Moderator
Kind Benefactor
Super Member
Registered
Joined

Apr 19, 2008
Messages

17,991
Reaction score

4,795
Location
Website
If you haven't read the FAQ: Cheat Sheet For Members Familiar With the vBulletin version of AW, you might want to.
XenForo doesn't do Rep comments/points. Instead it offers Reactions, akd Likes, like so social media [cough one large platform] does.
At the bottom right of an individual post is a gray "thumbs up" icon.
Hover your cursor over the thumbs up icon and you'll see a row of emojis: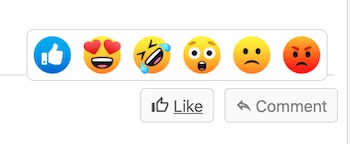 Going left to right the emojis mean:
Like
Love
Laughing
Wow
Sad
Angry
I'd like to add one that's a "virtual hug." But I can't just find one and use it; the art has to be either something I can buy/license, or public domain. Something that's roughly like a platonic hug, something comforting.
I could, I think, use
the standard Unicode hug
. But do people Id it as a hug?