Joined

Aug 5, 2009
Messages

256
Reaction score

29
Location
Website
Hello, all! I've finally jumped onto the self-publishing train, and as far as I can tell, it's going well! I was planning to wait until I got my first paycheck before posting about the experience, but I've got plenty to talk about now. And as I understand it, Amazon should be sending in their statement soon.
After much research and hand-wringing, I settled on self-publishing through BookBaby. I know there are several routes that would probably give me higher percentages in sales, but at this point in my life I needed a central place to do everything from, since I don't have the time to keep track of a half-dozen different things. BookBaby does it all — POD, ebooks, cover design, even webhosting — and I must say it's been a good experience so far. My only caution to others is to triple-check everything for errors, both yours and theirs. It's on you if the book gets printed with a goof. But as I'm an accomplished proofreader, it appears that I've managed to send the book out into the world without any glaring typos! At least none that I've found yet. Here's hoping.
This is the book: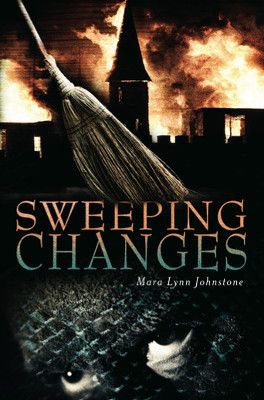 Sweeping Changes
is a fantasy novel about magic, memory problems, and broom-fu. It was originally inspired by song lyrics ("I used to rule the world / Seas would rise when I gave the word / But now I sleep alone / Sweep the streets I used to own"). I had a great time writing it, and readers are saying good things about it now! There are currently 10 reviews on Amazon, and they're all positive — most are high quality reviews, too, not just "it was good lol." This is a great relief to me, because of course I think it's good, but other people seem to as well! And they're not just saying nice things becuse they know me and don't want to hurt my feelings.
I've been as busy promoting it as I can be. I got it stocked in local bookstores and the library, I've done public readings and even a
TV interview
(woo!), and I've told everyone I know. When I placed the order with BookBaby, I got 100 physical books to give away and sell by hand, and I'm just now coming to the end of those. I've given them to friends and family, sold them at a mini comic con, and even gotten permission to set up a little display on the counter at my day job. I'm always delighted when people buy them. I'm not making any real money, buy I'm getting the word out, and I daresay that's more important, especially now when I'm just starting out.
I had bookmarks printed, which I highly recommend as a marketing tool. I used
OverNightPrints.com
, which has both good quality and good prices. ("Spend three times as much on the next batch, and get eight times as many? Yes please!") They turned out great: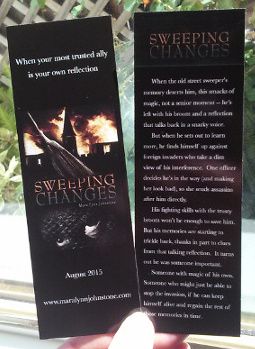 It's hard to go wrong with classy bookmarks. They're business cards that people will want to keep and look at regularly! A visible reminder to look up that book that sounded promising! Something that can be hidden around one's alma mater like a literary Easter Bunny was there! (My college may have bookmarks in strange places now. I regret nothing.)
What else have I learned? Goodreads! I've learned that Goodreads giveaways are excellent, while paying for a sidebar ad is a waste of money. I paid months ago to put my ad into the rotation, which really means I gave them money to use up in 50-cent increments whenever someone clicks on the ad. It's a great system, to be sure, except no one pays attention to the sidebar ads. I'm pretty sure only one person has added the book to their to-read list as a result of such a click. Ring-a-ding-ding. The giveaways, on the other hand, are a whole 'nother story!
I ran a giveaway in October, and nearly 1200 people entered to win a single copy. 500 of those added the book to their list, and these were people who'd never heard of it a few days earlier. All it cost me was a physical book that I already had, and the shipping fee to send it to the winner. Definitely worth it.
I'll be doing another giveaway on the first week of December, and we'll see if more or fewer people enter. Those 500 will be notified, and the Goodreads members who frequent the newly-posted giveaways may recognize it. The question is whether they'll react with an "Oh hey, I should enter this time," or a "Nah, I already saw it." I shall report back with my findings!
And if you or someone you know would appreciate a book with furbirds, fight scenes, and a snarky talking reflection, then
feel free to enter yourself!
You may even win.
Oh, and one other handy thing about Goodreads that I'd recommend is the book club forums. There are "Read to review / R2R" threads, where authors can offer free ebooks in exchange for honest reviews. It's a good system, provided you don't mind if people are actually honest! (It's a good way to get "I got a free copy and it was a waste of storage on my smartphone" responses.) (Thankfully I didn't get any of those.) And since emailing someone a digital copy doesn't cost a thing, I'd say it's well worth the effort.
I'm sure that there's more I can say about my adventures thus far, but I can't think of it now. I'll add more when it comes to me. Or when that first paycheck comes to me! Here's hoping it's bigger than I think it'll be!