Crazy Cat Lady
Super Member
Registered
Joined

Jan 4, 2015
Messages

2,636
Reaction score

325
Location
Website
Up front questions to the mods: the 5 picture rule, is it per post or per thread?
I made this thread so I won't be hogging or hijacking any other thread by flooding it with my stuff, so here it is.
The title refers to the current title of my WIP (in its third round of editing), "Deeply Loved". Which in turn refers to the name of the main character, Nadir, which means "deeply loved" in Arabic.
I'll be posting the scenes along with the pictures; the WIP isn't illustrated or anything, I'm just my own biggest fan, so there's fan art... haha. Ha. Ha... meh.
Enjoy or criticize, either is appreciated
Swearing ahead.
His face buried in his scarf and his hands in his pockets, he started replaying songs in his head to keep track of time. Halfway through Aziz Maraka's debut album, the hail's glacial touch suddenly withdrew. Around him, the storm hadn't let up, but he was no longer getting soaked.

Cool, maybe a meteor is falling on me!

Amused by his own bunk, he looked up and blinked. The meteor was hovering at a steady twenty centimeters above his head, and it was blue with white polka dots. He turned around and found Orli standing there, holding the umbrella; he caught only a glimpse of her worried look before her face lit up.

"What are you so happy about?" Nadir asked.

Orli blushed. "I just saved you from getting a deathly cold! I think that's awesome."

"Yeah," Nadir muttered. "Whatever."

"Ah," Orli said, "You know you can be nicer than that."

"I'm the nicest person on Earth."

"This is one scary place then."

Nadir buried his hands deeper in his pockets and looked down sideways. As much as he wanted to keep smoldering, the sweetness of Orli's gesture was disarming. But he was not going to break and smile. Ever. He felt it his solemn duty to be sullen.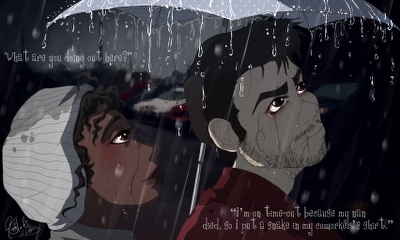 A set of claws tugged at the hair in the back of his head and he spun around to see Islam leaping back, leaving Yucky clinging to Nadir. Grunting, he reached behind his head to undo the living ball of velcro and throw it at Ameer, who caught Yucky and proceeded to chase Nadir with the confused cat in his hands.

"Stop that, you monsters!" Nasreen screeched. "You're being mean to Yucky!"

Nadir just laughed as he jumped and ran across the yard, trying to stay clear of the cat. "Cat Ball" he had named the game that was about throwing or otherwise attaching a cat to the other players. The player with the fewest scratches would win.

"Mong-mow?"

Yucky's confused, hollow cry was followed by the sounds of grit and sand catching something heavy. Nadir came to a clumsy halt and turned to find Ameer on the ground, face down. Yucky was squirming his way out from underneath.

"Beautiful!" Nadir laughed. "Ameer, atonement be yours, you suck!"

"You suck better," Ameer mumbled quietly so only Nadir could hear.
"Do you want me to hold your hair?"

"Shut up," Nadir coughed without looking around. He held on to the toilet seat for dear life. There was blood in the bowl from too much forced traffic in his throat.

Ameer sat on the edge of the bathtub, rubbing Nadir's back with his foot. "It's kind of offensive to go and throw up after you swallowed me, you know. Are you taking your meds?"

"Of course I am!" Nadir lied. While still weak, he was getting better, so he had secretly been mixing his pills into Orli's food instead. She had started to show symptoms, all of which could have been caused by her pregnancy, but Nadir was not going to take any risks.

(...)

Nadir pulled himself up and flushed the toilet. While he rinsed his mouth, pointedly wasting lots of Ameer's water, he felt two strong arms clamp around his abdomen. They fumbled to undo Nadir's belt, one he had only recently started to need. Ameer's hand slid down his briefs. A flash of arousal shot up his spine, but stood no chance against the nausea that had grown attached to Nadir.

"No, please," he groaned. "Not now. I just barfed my guts out, I feel like shit, I can't, I'm drained and..."

Ameer's other hand pressed down on his mouth. "You don't have to do anything," he whispered. "I know my way around your body."

Nadir twitched. When aroused, Ameer could be very cavalier and at this point, Nadir didn't have the muscle to keep his friend under control - not that he had ever tried to.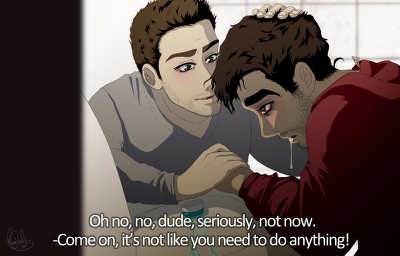 The insult to his heritage gave Nadir a new surge of strength and he kicked Uzair in the abdomen with both feet to get back on top. He was just cracking his fingers to bore them into Uzair's eyes when two strong arms threw themselves around his chest from behind and dragged him off. He was whirled around and cuffed around the ears so hard he nearly fell back down.

"What in the Lord's name is wrong with you?"

"What?" Nadir blinked to find his uncle, Khaleel, bent to meet Nadir's eyes with a stern gaze. Khaleel's heavy hands on his shoulders threatened to push Nadir through the asphalt. Maybe that wouldn't be such a bad thing.

"This man is one of your father's most valued contacts," Khaleel hissed, trying to keep his words between himself and his nephew. "What has gotten into you, boy?"

"But... but... He..." But he's been sexually exploiting me after I solicited him, so I attacked him. Yeah, better shut up.

Horrified and humiliated, Nadir watched as his uncle bent to help Uzair up. An embroidered napkin was offered, dirty blood staining Nadir's proud family name. His fist trembled against the surging hatred. Had he never approached Uzair, that blood would not have brought shame to the Arazi family initials. He kicked a pebble and turned to leave, but Khaleel grabbed him by the belt and dragged him back.

"You aren't going anywhere until you've apologized to this brother."

Brother? Oh my God, Uncle!

Khaleel turned his words to Uzair. "I'm sorry, this young man has been through a lot. There is no way to justify his behavior, but I hope you can find it in your heart to let it go. I'll make sure his father beats him straight."

Oh. My. Fucking. God! Are you hearing this?

To mortify Nadir even further, Uzair smiled and put his hand on his shoulder. "Don't worry, brother. I can tell this poor boy has a lot of chagrin in him. Maybe he needs to get laid more often."

Uzair winked. His eyes wide with anger, Nadir yanked his rump free from his uncle's grasp and tried to throw himself at his john again. Kicking and flailing, he was once more removed by Khaleel's strong arms.

"He called me an Arab bitch!" Nadir screamed, desperately holding on to the only offense he could share. "Are you not gonna defend your peoples' honor, Uncle?"

"Easy, tiger."

"My ass! We've taken enough shit, step the fuck up!"

Uzair approached Nadir who was helplessly trapped in his uncle's arms. He cupped Nadir's cheek in one fat hand and met his gaze.

"My poor boy," he purred. "Looking for enemies just to distract yourself from your own demons. Let your uncle take you home. Eat something. I forgive you."

Nadir's mouth was wide open, speechless, as Uzair nodded at Khaleel and walked away. Another public beating followed; no Arazi ever let their children misbehave without a public display of disapproval. Nadir passively let himself be hauled over the coals to get it over with.

When you decide to die, I guess it means you really should.

When it was over, Khaleel met Nadir's eyes once more by lowering his own tall frame. "Excommunicating you was a mistake. You need God more than anyone."

"Uncle Khaleel, please, no!"

But Nadir's wrist was just the right circumference for his uncle's pianist hand, and he could only scramble to stay on his feet as he got dragged in the general direction of the one place that still managed to intimidate him.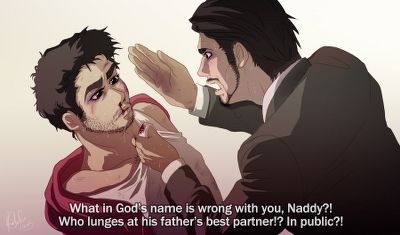 When Nasreen was three, she had waddled away into the crowded alleys of Jerusalem's old Christian quarters, and their parents' panic increased when Nadir, too, disappeared in search for her. His own mental maturity was severely delayed by his condition, and there was little reason to worry about him any less than about his tiny sister. Nadir had found her eventually – playing house with wooden Nativity figurines and chewing on Baby Jesus. The merchant was only mildly upset but nevertheless accepted Nadir's sandwich, complete with its Spiderman box, and the set of crayons for compensation. Nadir scooped Nasreen up and gave her a mild scolding that soon turned into laughter. She had no idea she had just drooled all over her lord and savior.

A giggle found its way through the gloom when Nadir recalled the many times he had had to beat up other boys, and throw dirt at girls who would make fun of Nasreen.