A Year of Writing Flash Fiction
is a new challenge that will be held in AW's Flash Fiction forum.
It will run every week during 2013. Week 1 of the challenge will begin on Saturday 5th January.
To meet the challenge in any particular week, participants must:
1)
Write
a flash fiction story.
2)
Polish
that story.
3)
Submit
that story to a market.
Each of these steps must be completed
within that week
to count.
The aim of this challenge is to help you to develop a regular routine of writing, editing and submitting flash fiction stories.
Resources
:
I will post a story prompt every Saturday, at the start of each new week of the challenge. It is not compulsory to use this prompt; it is simply offered in case you would like something to help kick-start your ideas. You are also free to use, at any time, any of the prompts posted for the Flash Fortnight challenge, all of which are listed in the links given at the bottom of
this post.
The
Polished and Ready room
(password:
flashed
). Once you have edited your story as best you can, you may post your story here for feedback before you send it out.
You might like to mention that it is a story written for this challenge (for example, you could put "YOWFF 1: [Story title]" as the thread title), so that critiquers are aware that there is a time constraint on feedback. If you do post in Polished and Ready, please consider providing feedback on the stories of your fellow members and challenge participants.
The
Submitting and Selling Flash Fiction
room. Look over the flash fiction markets listed and discussed here to help you decide which ones you would like to submit your story to.
The Flash Fictioners' Corner Booth
. Discuss your writing, commiserate with each other regarding rejections, and celebrate story acceptances. This thread is yours to use as you like!
Signature pips
:
As you progress in this challenge, you might like to mark your achievements in your AW forum signature. When you reach each milestone, feel free to use the appropriate image from this super special selection: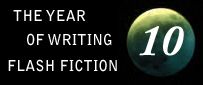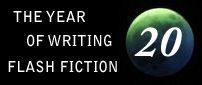 Best of luck!